Embrace Life with a Smile White Glossy Mug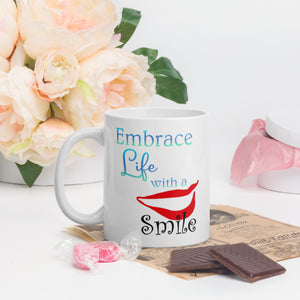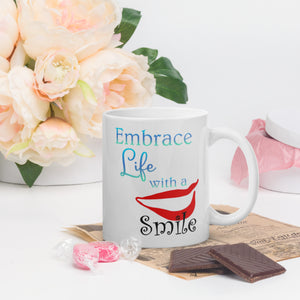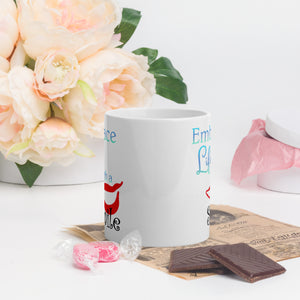 Start your day with a cup of positivity and a heartwarming reminder to embrace life with a smile. Our "Embrace Life with a Smile" White Glossy Mug, designed by Sylvia Bennett for Smile Gifts, is more than just a mug; it's a daily dose of joy, a vessel of inspiration, and a symbol of optimism.
Features:
☕ Premium Quality: Crafted from high-quality ceramic, this mug is both sturdy and elegant. Its glossy finish adds a touch of sophistication to your coffee or tea time.
🌞 Inspiring Design: The mug features our signature "Embrace Life with a Smile" design, ensuring every sip is accompanied by a message of positivity and happiness.
🤗 Comfortable Handle: The ergonomic C-shaped handle is designed for a comfortable and secure grip, making it a joy to hold and sip from.
🌅 Versatile Use: This mug isn't limited to hot beverages. It's perfect for coffee, tea, hot chocolate, or even as a stylish pen holder on your desk.
🎁 Perfect Gift: Share the gift of a smile with friends, family, or coworkers. This mug makes a thoughtful present for birthdays, special occasions, or simply to brighten someone's day.
Capacity:
Standard Size:

11 oz mug dimensions: 3.79″ (9.6 cm) in height, 3.25″ (8.3 cm) in diameter
Note: Due to variations in monitor settings and screen displays, the actual colors of the product may slightly differ from what you see on your screen.
Every morning, as you savor your favorite beverage from this "Embrace Life with a Smile" White Glossy Mug, you'll be reminded that life's beauty is all around you, waiting to be embraced with joy.
Add a touch of positivity to your daily routine, elevate your coffee breaks, and share the gift of optimism. Order your "Embrace Life with a Smile" White Glossy Mug today and start each day with a smile.