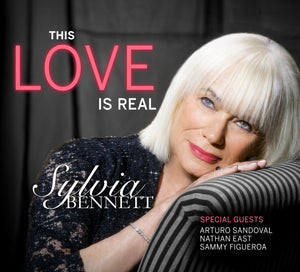 This Love is Real is a continuation of Sylvia Bennett's quest to share her love of music and romance with a mix of original and cover songs.  For her eleventh studio album, Sylvia once again has teamed up with her long-time and award-winning producer, Hal S. Batt, to co-write a few songs for her latest project.  In addition, they reimagined a few classic songs and further added the talented instrumentals of renowned musicians Arturo Sandoval, Nathan East and Sammy Figueroa.  This Love is Real finds Bennett artfully swinging from playful and whimsical to passionate and sensual as she brings smooth grooves and Latin-tinged twists to her all-time favorite subject… love!
This Love is Real features two original and four cover songs.  The first two singles released were "It's Impossible" and "Lorilee." "It's Impossible" is a contemporary smooth jazz version of the classic song featuring world-renowned bassist Nathan East. Lorilee is a David Gates penned tuned (Bread) featuring the passionate horn of multi-Grammy Award winning Arturo Sandoval.  The Pop version peaked at #27 and remained in the Top 30 for six weeks on the Mediabase AC Published Panel. The other two cover songs are "Where or When" featuring Sammy Figueroa and "Shadow of Your Smile."  
The two original songs co-written by Sylvia and Hal S. Batt are inspired by life and love and never giving up on your dream of a happy ending. Unlike Sylvia's rose-colored view of love, "One-Sided Love" was written for those that would rather have something than nothing at all.  The title track, "This Love is Real," is about the realization that it is possible to fall in love again even after a bad break up.  It will give you a sense of hope that in the end you will finally find true love.
Italian born and American raised Sylvia Bennett is a Grammy nominated international recording artist and songwriter who has performed at Presidential Inaugurations and opened for such renowned artists as Bob Hope, Phyllis Diller, Jackie Mason, Dizzy Gillespie, Barry Gibb and David Brenner.  Discovered by the legendary Lionel Hampton, she has since captivated audiences and critics alike with her sultry, honeyed tones and seductive blend of jazz and pop. She's the inimitable, unforgettable Sylvia Bennett.
This Love is Real is available for presale on Amazon, BandCamp, GooglePlay and iTunes. Visit SylviaBennett.com for the latest news.