Introducing the Sylvia Bennett Smile Charm Necklace: Where Elegance Meets Joy!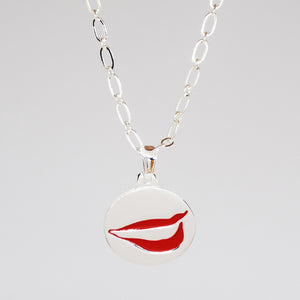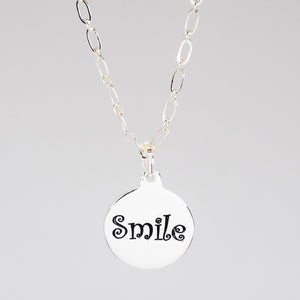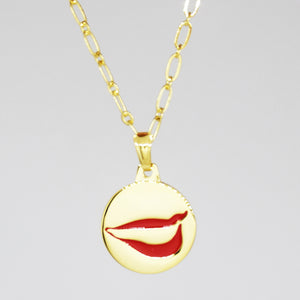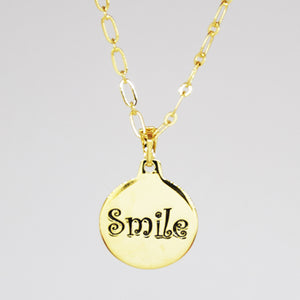 Discover the epitome of refined beauty and radiant positivity with our exclusive Smile Charm Necklace. This exquisite piece transcends mere jewelry—it's an embodiment of timeless grace and a celebration of the happiness that resides within you.
Key Features:
✨ Graceful Charm: Adorned with a delicately crafted smile charm, this necklace exudes timeless elegance. The pendant is a subtle yet powerful reminder to carry the spirit of joy with you, making it the perfect accessory for any occasion.
💎 Fine Craftsmanship: Meticulously designed by Sylvia Bennett, this necklace reflects unparalleled quality and attention to detail. Your choice of PermaSilver or PermaGold layered chain ensures durability, while the smile charm sparkles with a brilliance that's as captivating as your own smile.
😊 Symbol of Joy: More than just a piece of jewelry, the Smile Charm Necklace carries profound symbolism. It serves as a daily prompt to appreciate life's joys, spread positivity, and wear your happiness proudly.
🎁 Thoughtful Gift: Elevate your gifting experience with a present that speaks volumes. The Smile Charm Necklace is a heartfelt and timeless gift, perfect for commemorating special occasions or expressing your love and admiration.
🌟 Versatile Elegance: Whether you're dressing up for a formal event or adding a touch of sophistication to your everyday ensemble, this necklace effortlessly complements your style, enhancing your natural radiance.
✨ Easy to Adore: Like a genuine smile, this necklace is easy to care for. Simply polish it to maintain its lustrous shine, and it will continue to reflect the light of your joy.
🌞 Wear Happiness Close to Your Heart: The Sylvia Bennett Smile Charm Necklace is more than a piece of jewelry; it's a wearable expression of joy and a reminder that your smile is your most beautiful accessory.
Elevate your style with a touch of joy - order your Smile Charm Necklace today and let your inner happiness shine through. True beauty radiates from within, and your smile deserves to be celebrated every day.
#YouMakeMeSmile