Introducing the Smile Charm Bangle Bracelet with Swarovski Crystal: Where Elegance Meets Happiness!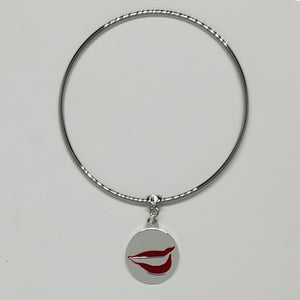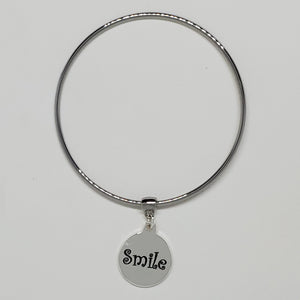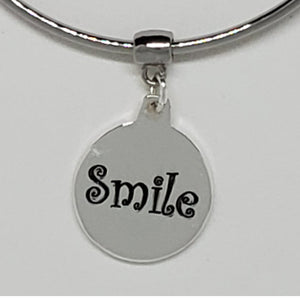 Elevate your style and embrace the power of a smile with our exquisite Smile Charm Bangle Bracelet adorned with a genuine Swarovski Crystal. This isn't just jewelry; it's a radiant expression of positivity and a symbol of your joyful spirit.
Key Features:
✨ Swarovski Brilliance: At the heart of this bracelet, you'll find a brilliant Swarovski Crystal that sparkles with unmatched clarity and beauty. It's a shimmering reminder to keep your outlook just as bright.
🌟 Timeless Design: Crafted with precision and artistry, this bangle bracelet combines classic elegance with a modern twist. Its slender, adjustable design ensures a perfect fit, effortlessly enhancing any outfit.
😊 Embrace Happiness: Our Smile Charm is more than just a charm; it's a token of happiness. Wear it close to your heart, and let it remind you to smile often, share your joy, and be a beacon of positivity.
💎 Exceptional Quality: We believe in offering nothing but the best. This bracelet is crafted with attention to detail and built to last. The Swarovski Crystal and durable materials ensure it shines for years to come.
🎁 Perfect Gift: Searching for a meaningful and memorable gift? The Smile Charm Bangle Bracelet is a timeless gesture of love and optimism. It's perfect for birthdays, anniversaries, or just to brighten someone's day.
🌈 Versatile Beauty: Whether you're dressing up for a special occasion or adding a touch of elegance to your everyday attire, this bracelet complements any style effortlessly.
✨ Easy Maintenance: Just like your smile, this bracelet is easy to maintain. Simply wipe it clean to keep it looking as radiant as the day you received it.
🌞 Wear Happiness: Let your jewelry reflect your inner joy. The Smile Charm Bangle Bracelet with Swarovski Crystal is more than an accessory; it's a symbol of your commitment to positivity and spreading happiness.
Add a touch of sparkle to your life and let your smile shine bright - order your Smile Charm Bangle Bracelet today and wear your happiness with pride. Make every day a celebration of joy, because you deserve to sparkle inside and out.