Reflections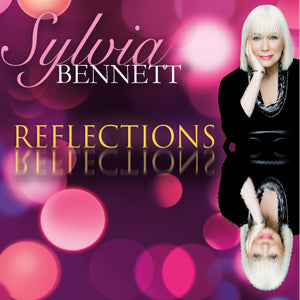 Immerse yourself in the captivating melodies of "Reflections," a musical masterpiece that invites you to explore the depths of your soul and embark on a profound journey of self-discovery. More than an album, it's a symphony of emotions, memories, and introspection.
When love called, Sylvia Bennett answered with her fourteenth studio album Reflections, a collection of songs that explores the different facets of relationships from dreaming about them to what really can happen. Being home more this past year allowed Sylvia the time to reflect on life and love, inspiring her to write more original songs four of which are included on this album. Once again, Sylvia has teamed up with her long-time producer and writing partner, Hal S. Batt, to encourage listeners to give love the opportunity regardless of the outcome.

Listeners will enjoy the unique style and mood of every song that flows from dreamy to upbeat. The title song and first track, "Reflections," with its ethereal sound takes you on journey to where all dreams begin. "All Through the Years" is the culmination of those dreams. "I Never Thought" is about taking a relationship for granted and not realizing what you had until it's gone. "Feel Again" and "Along the Way" both deal with the ability to overcome being hurt. "Witchcraft" is an upbeat World Mix version of this classic standard dealing with the uncontrollable allure of the power of love. An acoustic version of "Feel Again" is included as a bonus track.
🎁 Perfect Gift: Share the gift of introspection and emotional connection with loved ones. "Reflections" is a meaningful present for birthdays, anniversaries, or any moment when words alone can't express your feelings.
Tracklist:
Reflections
All Through the Years
Feel Again
I Never Thought
Along the Way
Witchcraft (World Mix)
Feel Again (Acoustic)