It's All About Love: A Musical Tapestry of Emotions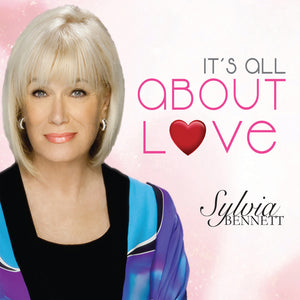 Dive into the depths of the most profound emotion with "It's All About Love," a musical journey that explores the many facets of love, from its tender beginnings to its passionate crescendos. This enchanting collection of songs is a heartfelt expression of the myriad emotions that love inspires.
Sylvia Bennett's first all original, contemporary jazz album, IT'S ALL ABOUT LOVE, is finally available. Featuring the Grammy–nominated singer in an entirely new sonic atmosphere, one that plays on her sensual side and taps into her 24/7, deeply held belief that love is the answer as well as the question. The project has produced two hits before its release date and the 3rd single, the title track, "It's All About Love," is no doubt going to be another runaway radio smash as well with its smooth, ethereal groove featuring the high studio standards of producer/songwriter Hal S. Batt (Shakira, Julio Iglesias) and the gorgeous layering of voice with a sweet, seductive musical ambiance. The Miami song machine is in her creative prime and is redefining the business of music, with no intentions of stopping anytime soon! 
Why Choose "It's All About Love"?
A Celebration of Love: This collection is a tribute to the most powerful and beautiful emotion in the world – love in all its forms.

Versatile and Heartfelt: Whether you're expressing love to a partner, a friend, or yourself, this music speaks the language of the heart.

Meaningful Gift: Share the gift of love with someone special. "It's All About Love" is a heartfelt present for anniversaries, weddings, birthdays, or simply to show someone you care.

Quality Assured: We're committed to delivering a premium listening experience, ensuring every note and lyric is crystal clear and emotionally resonant.
Rediscover the beauty and depth of love through the timeless melodies of "It's All About Love." This musical tapestry will immerse you in the emotions that make life's journey all the more meaningful.
Order "It's All About Love" today and let the music of love serenade your heart and soul. SmileGifts.com – Where music brings happiness.
Tracks

1.   It's All About Love (3:58)
2.   Another Love Song (3:31)
3.   Letting Our Feelings Go (3:49)
4.   Somewhere in the Moonlight (4:04)
5.   Don't Need Another Lover (3:26)
6.   Por Tí (Becasue of You) (3:21)
7.   You Were My Best Friend (3:09)
8.   I Still Love You (3:55)
9.   New Love (3:34)
10.  One Love (3:15)
Bonus Track
11.  Pour Toi (Becasue of You) (3:23)