I Wish You Love: A Musical Journey of Heartfelt Wishes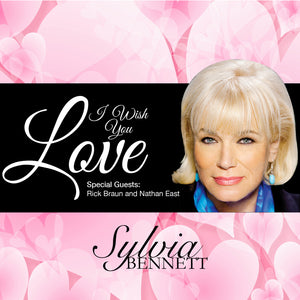 Embark on a musical journey filled with heartfelt wishes with "I Wish You Love." This enchanting collection of songs is more than just melodies; it's a heartfelt expression of good wishes, love, and the power of music to touch the soul. Let each note carry your warmest sentiments to someone special.
International Recording Artist Sylvia Bennett sings in the key of love with her tenth studio album titled I Wish You Love. In her own words, "When you talk about love you have to talk about all of it - the joy and the heartache. I Wish You Love is one amazing ride taking you through all the emotions of love."

Because it's all we need... because it's the answer and because it never fails. These are only but a few of the reasons why our favorite songbird, vocalist Sylvia Bennett, wishes us Love on her latest outing of recorded musical bliss! I WISH YOU LOVE is simmering to the brim with delicious contemporary musical treats. Dipping into her collection of favorites from the classic songs that she's romanced over the years in several languages; this intentional album of love songs blazes a new trail for our tireless, crooning crusader... the lusciously arranged set by longtime producing partner, Hal S. Batt, is all in English and features some amazing special guests including the one and only bass master, Nathan East on an impeccable cover of "It's Impossible" and Chart-topping Smooth Jazz trumpeter Rick Braun on a highly enjoyable run of "C'est Si Bon," or as we like to call it, "C'est Si Braun." Really, it's all you need to get by. Love that is… and this wonderful assortment of love songs falls into that category as well. Find out for yourself! 
Tracks

1.   Bésame Mucho (3:13)
2.   It's Impossible [feat. Nathan East] (3:05) 
3.    C'est Magnifique (2:52) 
4.   I Wish You Love (3:44) 
5.   Sway (2:38)
6.   Autumn Leaves (3:28) 
7.   Beyond the Sea (3:21) 
8.   A Man and A Woman (2:38) 
9.   La Vie En Rose (2:44) 
10.  I Will Wait For You (3:37) 
11.  C'est Si Bon [feat. Rick Braun] (3:16) 
12.  Moulin Rouge (2:19) 
13.  Be True To Me (2:54) 
14.  I Wish You Love (Radio Edit) (3:14) 

Why Choose "I Wish You Love"?
Heartfelt Gifting: Share your love and good wishes through the gift of music. This collection is a beautiful way to express your sentiments to friends, family, or a special someone.

Versatile Expression: The themes in this compilation make it suitable for various occasions, from weddings and anniversaries to birthdays and heartfelt moments of appreciation.

Lasting Memories: Give the gift of lasting memories. The songs in "I Wish You Love" are timeless, and they will continue to resonate with the recipient for years to come.

Quality Assured: We're committed to delivering a premium listening experience, ensuring that every note and lyric is clear and emotionally impactful.
Elevate your well-wishing to a new level with "I Wish You Love." It's more than just music; it's a heartfelt expression of your warmest sentiments and best wishes.
Order "I Wish You Love" today and let the music of love and goodwill fill your life and the lives of those you care about. SmileGifts.com – Where music brings happiness.