For You: A Musical Gift of Love and Emotion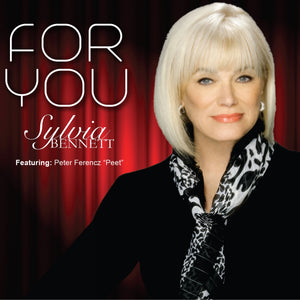 Experience the magic of music with "For You," a soulful compilation designed to stir your heart, soothe your soul, and inspire beautiful moments. This musical journey is more than just a collection of songs; it's a heartfelt gift of love and emotion, destined to become a cherished part of your life.
Sylvia Bennett continues her journey into smooth original music… her brand new album FOR YOU, delivers another successful set of contemporary, sensuous songs from the Grammy-nominated, Miami-based vocalist and songwriter. On the heels of IT'S ALL ABOUT LOVE, which climbed up to #24 in 2016 on SmoothJazz.com's Top 50 Album Airplay Chart. The new release features the successful collaborative combo with Ms. Bennett's longtime producer and writing partner, Hal S. Batt. The renowned Miami producer and After Hours studio owner has worked with some of the biggest names in Miami recording history including Ricky Martin, Julio Iglesias, Regina Belle and many more. Also, this go around, Sylvia invites Hungarian violinist and bandleader Peter Ferencz, from the Smooth Jazz Pop ensemble, Peet Project. Modern love songs, jazzy chilled arrangements, heart string-tugging vocals and sophisticated musicianship… FOR YOU is for all of us!
Why Choose "For You"?
Embrace Love: "For You" is a musical expression of love in all its beautiful forms. It's a gift that communicates your deepest feelings without saying a word.

Romantic Atmosphere: Set the stage for romantic moments that are as enchanting as they are unforgettable. Let the music create the perfect backdrop to your love story.

Thoughtful Gift: Share the gift of love with someone special. "For You" is a meaningful and heartfelt present for anniversaries, weddings, Valentine's Day, or any occasion that celebrates love.

Quality Assured: Our commitment to musical excellence ensures that "For You" meets the highest standards of quality, ensuring an unforgettable listening experience.
Discover the power of music to express love, ignite passion, and create unforgettable memories. "For You" is more than an album; it's a musical journey that speaks the language of the heart.
Order "For You" today and let the music of love fill your life with warmth, emotion, and beautiful moments. SmileGifts.com – Where music brings happiness.
Tracks

1.   For You (3:41)
2.   Stay With Me (3:39)
3.   Two Hearts One Soul (3:56)
4.   I Never Thought (3:22)
5.   Fly Me to the Moon (2:29)
6.   Smile (Lounge Version) (3:46)
7.   Loving You (3:48)
8.   Look of Love (Smooth Pop Version) (3:46)
9.   Make Someone Happy (3:31)
10.  Glad To Know (3:06)
11.  Smile (Chill Version) (3:48)