16-Inch Embroidered Eye Teddy Bear with T-Shirt - Your Big, Cuddly Friend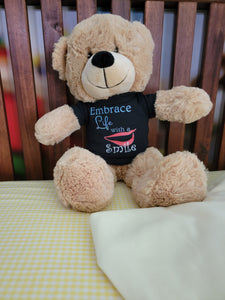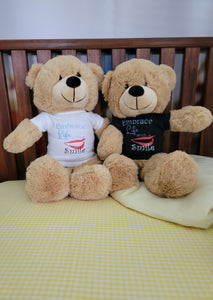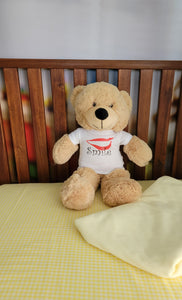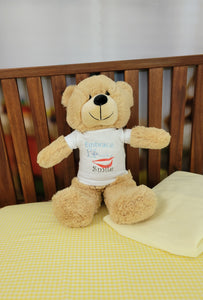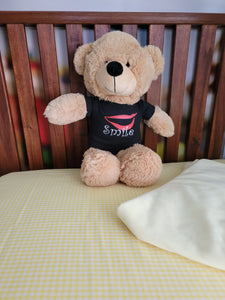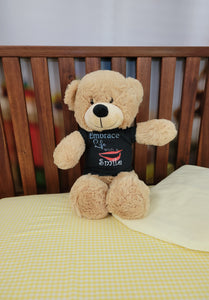 Meet your new cuddly companion – the 16-Inch Embroidered Eye Teddy Bear with T-Shirt. This lovable bear is not just a toy; it's a cherished friend, a source of comfort, and a heartwarming gift that spreads joy wherever it goes.
Key Features:
Big, Cuddly, and Adorable: With its generous 16-inch size, this teddy bear is the epitome of cuddly. Its embroidered eyes and velvety-soft fur make it irresistibly charming and huggable.

Customizable T-Shirt: Express your creativity and make your teddy bear unique with the included T-shirt. Personalize it with a name, message, or design that holds special meaning to you or your loved one.

Exceptional Craftsmanship: Crafted with meticulous attention to detail, this teddy bear is made from high-quality materials for durability and lasting softness. Its plush fur is so luxuriously cozy, you won't want to let go.

Safe and Allergen-Free: Safety is paramount. Rest assured that this teddy bear is free from harmful chemicals and allergens, making it safe for children and those with sensitivities.

Versatile Gift: Whether it's a birthday, anniversary, Valentine's Day, or a gesture of love "just because," this teddy bear is a timeless gift that conveys warmth, affection, and care.
Why Choose the 16-Inch Embroidered Eye Teddy Bear?
Hug Therapy: Sometimes, all you need is a hug. This teddy bear offers a warm, comforting embrace that soothes and nurtures the soul.

Memorable Personalization: Add a personal touch by customizing the bear's T-shirt. It's a keepsake that captures the essence of your sentiments.

Charming Decor: Beyond being a cuddly friend, this teddy bear can be a delightful addition to your home decor. Place it on your bed, couch, or nursery to infuse your space with coziness and charm.

Quality Assured: Our teddy bear is a testament to exceptional quality and craftsmanship. It's backed by our commitment to delivering a product that inspires smiles and enduring memories.
Experience the magic of companionship, warmth, and the pure joy of hugging the 16-Inch Embroidered Eye Teddy Bear with T-Shirt. Whether you're embracing it yourself or gifting it to someone special, this bear embodies the essence of love and comfort.
Order yours today and let the hugs and smiles begin! SmileGifts.com – Where every bear brings happiness.
Note: Bear stands approximately 16 inches tall. Colors may vary slightly due to monitor settings.