10-Inch Embroidery Eye Teddy Bear with T-Shirt - Your Cuddly Companion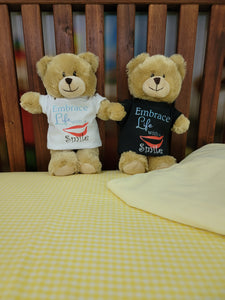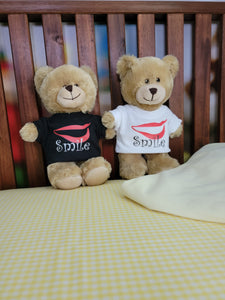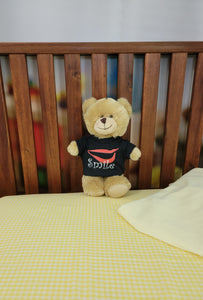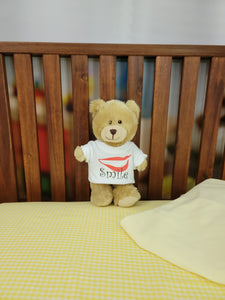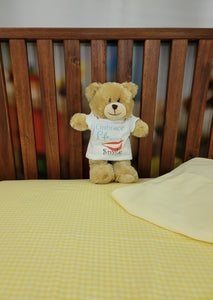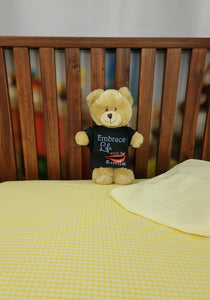 Introducing our 10-Inch Embroidery Eye Teddy Bear with T-Shirt – the perfect blend of cuddly comfort and heartwarming charm. This adorable teddy bear is more than just a toy; it's a companion that brings joy, comfort, and smiles to all ages.
Key Features:
Irresistibly Cute: Our 10-inch teddy bear is designed to capture hearts with its endearing embroidered eyes and soft, huggable fur. It's a timeless classic that's loved by children and cherished by adults alike.

Customizable T-Shirt: Personalize your teddy bear's style with the included T-shirt. Whether you want to add a name, a special message, or a design that's meaningful to you, this bear's T-shirt provides the perfect canvas to express your creativity.

Premium Craftsmanship: Crafted with meticulous attention to detail, this teddy bear is made from high-quality materials to ensure durability and long-lasting snuggles. Its plush fur is luxuriously soft to the touch.

Safe and Hypoallergenic: Safety is our top priority. The 10-Inch Embroidery Eye Teddy Bear is free from harmful chemicals and allergens, making it safe for all members of the family, including infants.

Versatile Gift: Whether it's a birthday, anniversary, Valentine's Day, or just because, this teddy bear is a thoughtful and heartfelt gift that conveys love, comfort, and affection.
Why Choose the 10-Inch Embroidery Eye Teddy Bear?
Emotional Comfort: Teddy bears have a unique way of providing emotional comfort and companionship. This bear is there to offer a warm hug and a friendly smile whenever you need it.

Memorable Personalization: Customize the bear's T-shirt to create a unique gift that carries a personal touch. It's a keepsake that will be treasured for years to come.

Versatile Decor: Beyond being a cuddly companion, this teddy bear can also be a charming addition to your home decor. Place it on your bed, couch, or bookshelf for an extra touch of warmth and nostalgia.

Quality Assured: Our teddy bear is made with utmost care and attention to detail. It's backed by our commitment to delivering a product of exceptional quality and delight.
Experience the joy of hugging, cuddling, and gifting the 10-Inch Embroidery Eye Teddy Bear with T-Shirt. Whether you're keeping it for yourself or sharing it as a special gesture, this bear embodies comfort, love, and the timeless magic of a teddy bear's embrace.
Order yours today and let the smiles begin! SmileGifts.com – Where every hug brings happiness.
Note: Bear stands approximately 10 inches tall. Colors may vary slightly due to monitor settings.