Embrace Life with a Smile Glass Jar Soy Wax Candle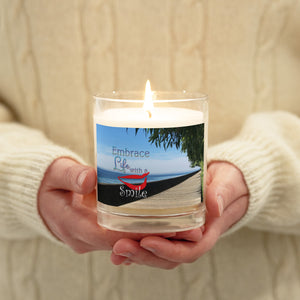 Illuminate your space and embrace life's moments with our "Embrace Life with a Smile" Glass Jar Soy Wax Candle. This exquisite candle is more than just a source of light; it's a symbol of joy, warmth, and the simple pleasures that make life beautiful.
Features:
🕯️ Soy Wax Elegance: Crafted with love and care, this candle is made from premium soy wax, known for its clean and long-lasting burn. Experience hours of soothing illumination.
🌼 Captivating Fragrance: Infused with a delicate, uplifting fragrance, this candle fills your space with a delightful aroma that awakens your senses and evokes a sense of tranquility.
🪶 Elegant Glass Jar: The candle comes in a chic glass jar that adds a touch of sophistication to any room. Once the candle is done, repurpose the jar as a decorative accent or keepsake.
💫 Embrace Life Message: Adorning the jar is our signature "Embrace Life with a Smile" message, serving as a reminder to cherish every moment and find happiness in the small things.
🎁 Perfect Gift: Whether for yourself or someone special, this candle makes a thoughtful gift for birthdays, housewarmings, or simply to spread a little positivity.
Dimensions:
3.76″ × 3.13″ (95 × 79 mm) glass vessel
Embrace life's moments, find solace in its warmth, and let the gentle glow of this candle be a reminder to smile, no matter what. Treat yourself or a loved one to the "Embrace Life with a Smile" Glass Jar Soy Wax Candle and fill your surroundings with positivity and light.
Note: Due to the handcrafted nature of our candles, slight variations in color and appearance may occur, making each one unique. Enjoy the charm of a handmade creation.